By the ZippyCart Content Team
Sept 21, 2012
Choosing the right ecommerce solution can be difficult for any business. There are hundreds of solutions available, each with different features — some of which seem like necessities, and some of which you may never use. So, what do you really need in an ecommerce platform?
Here's a quick guide to finding the ecommerce features that are absolutely necessary for your business.
Rock-Solid Customer Service
No solution is perfect. Every ecommerce platform will eventually run into some form of problem, ranging from minor annoyances to serious problems that could cost you money if not fixed quickly. Good customer service can mean the difference between a temporary problem and lost revenue.
Look for honest, objective evaluations of the ecommerce provider's customer service. Is it available when needed? How do your fellow businesses rate the customer service? What problems may you run into and how are they solved?
Questions to ask: How large is your customer support team? Is it in-house, or outsourced? Will I be connected with an employee, or go through an answering service? Is service available during the hours I'll need it, or better yet, 24/7?
PCI-Compliance and Fraud Protection
One of the realities of doing business on the Internet is that you have a relatively high exposure to fraud. A lesser known fact is that the cardholder is not liable for the cost in these situations so the burden of handling fraud and loss falls to you, the online business owner who failed to protect against fraud. Ecommerce solutions need to be PCI-Compliant and have tools in place — first, to stop fraud, and second, in the event those tools fail, a policy to make sure that any fraud is properly redressed.  If they have higher compliance than PCI-Comliance, such as PA-DSS compliance, even better!
Questions to ask: What is your average chargeback rate? How much will a disputed charge cost me? What security measures are in place to protect fraudulent transactions, such as SSL certifications?  Have they been verified secure by a trusted source?
Customization and Website Integration
In ecommerce, there is no "one size fits all."  Every business will have a different need and find a different 'perfect' eCommerce solution.  Some businesses need to simply accept credit cards securely. Others need to have customers register for accounts. Still others will need more specialized tools, like Intuit integration. Any ecommerce solution you consider should be easily tailored to your needs.
Questions to ask: How easy is it to design (and redesign) page templates? Does the all packages and quoted prices come with all available features, or do some cost extra? What other features might I need in the future?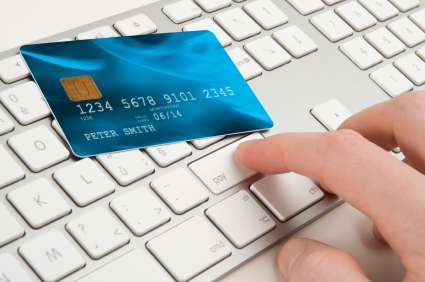 The moment of truth.
Payment Options and Gateways
Online and mobile payments are a rapidly expanding industry, with new technologies arriving every day. PayPal, Google Wallet, and more exotic options such as Bitcoin sit alongside more common payment methods such as credit cards and electronic checks. While not all payment options will be right for you, you should be able to adapt to new payment methods as they arise.  When choosing an eCommerce solution, consider your needs as it's possible your online shop would benefit from a company that offers many payment gateways.
Questions to ask: What payment gateways and options are currently accepted? Are Amex and Discover included? PayPal? What is the strategy for accepting new forms of payment going forward?
Scalability
The right eCommerce system will help you grow sales, which presents you with a new challenge: can your ecommerce system keep up with the growth? If you're hosting your ecommerce platform yourself, you'll need to hire IT and development employees to support your ecommerce platform as it grows.
The other option is a fully hosted eCommerce solution, such as CoreCommerce, AmazonWebstore or Pinnacle Cart. Not only do these companies have the infrastructure to scale with your business, but details like security and software updates will be taken care of automatically.
Questions to ask: Where are your servers hosted? What's the largest customer you currently support? What's your uptime percentage? Can you support my business when I grow to 10x my current size?
Optional, But Useful, Features
Bulk Uploading: If you have a large database of products, being able to add that database all at once can save you a lot of time when building your ecommerce solution.
Template Options: Some solutions come with multiple pre-designed "templates," which can be useful if you want a tested storefront instead of a custom design.
Domain Transfer: Being able to transfer your entire store can save you a lot of time and work.
Image Support: Being able to tag your images with SEO terms, and allowing customers to manipulate them (for example, by magnifying the image) can be a very useful sales tool.
Cart Abandonment Remarketing: Being able to reconnect with your clients and tempt them back to complete a sale is a powerful marketing tool that helps save lost revenue.
There's an ecommerce solution for everybody, and at ZippyCart we'll help you find the one that's best for you. Be sure to ask about these features when shopping around.